For the better part of the last 10 years, Logos Bible Software has been an indispensable tool in my ministry toolkit. Whether I'm writing or editing blog posts, Bible studies, books, videos, or preparing a sermon, my Logos library makes it easy to, among other things:
Read passages in multiple translations
Compare insights from across theological traditions thanks to a pretty rockin' library
Explore the meaning of key words and phrases in-depth
That's on top of being able to create reading plans, community updates, prayer reminders, and a whole lot more. In other words, I'm a big fan of this resource. With the arrival of Logos 9, that doesn't look to change anytime soon.
What I like as a user
Previous releases of Logos took giant leaps forward in terms of usability. Prior to Logos 7 and 8, as much as I enjoyed using my library, it was not super-intuitive. However, these more recent editions made this aspect a priority and Logos 9 continues that trend.
The dashboard continues to be very clean and is fully customizable, allowing you to add cards based on your reading plans, prayer lists, and other workflows. Oh, and for those who love dark mode on their Macs (like me with my middle-aged man eyes), Logos does actually have dark mode now too!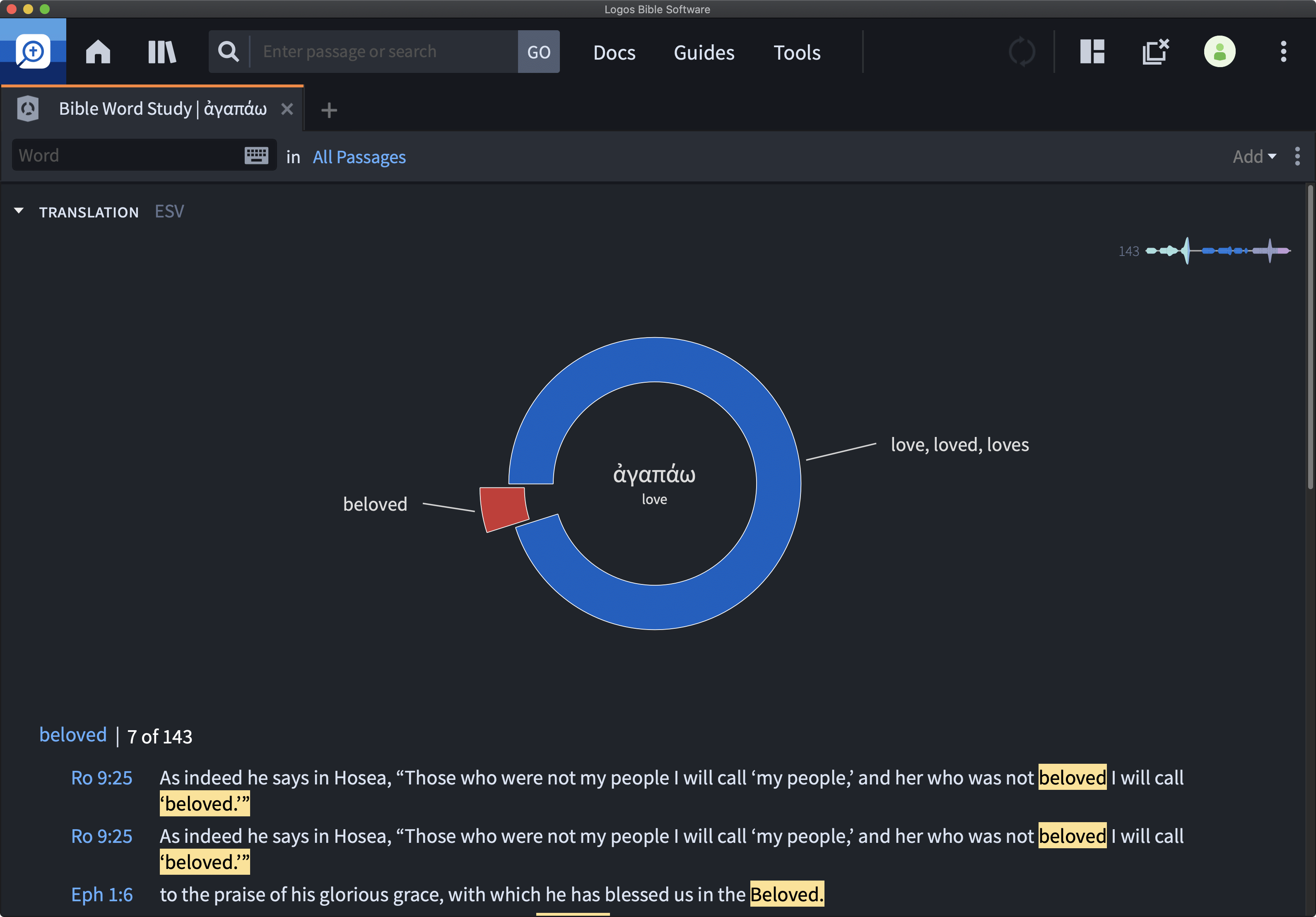 What I like as a writer and editor
Vocationally, I'm a writer, Bible study editor, and content marketer. In all of these roles, I need tools I can rely on to help me as I seek to communicate the meaning and message of Scripture effectively. One of the elements I really love for this is the Theology Guide. Like many features, this is not a new one, but it is a helpful one.
Let's think about an easy to understand doctrine like the Trinity, for example. (Nothing like discussing the nature of God as three-in-one to give you heart palpitations.) The Theology Guide provides a basic summary of the doctrine, a list of theologically related passages in Scripture, along with links to recommended reading from your library, both complete works and excerpts and articles from larger theological works.
What's most helpful about this is not just that you get to nerd out a bit, but if you're looking for a larger collection of works to dig deeper you've got them all in one spot. This saves a great deal of time that can be better put to use doing what really matters—crafting your content.
Another element that I enjoy just from a sheer nerdy-ness standpoint is the charts tools. I love being able to visually see how often specific words appear throughout Scripture. This might seem like a little thing, and I would always advise caution in doing word studies without considering context, but charting words like this can help us pick up on themes within specific books, and with specific authors.
What I like as a community group leader
Finally, there's the matter of person-to-person ministry. It might seem strange to be talking about a software package in this context, but hear me out:
I recently took on the role of leading my community group. (More on that another time.) One of the most important things I need to be doing for my group is praying for them. Lots of people have different approaches to how they keep prayer for individuals top of mind—some are incredibly disciplined and do it without ever failing, others set up calendar reminders daily, others still do things I haven't thought of.
A feature in Logos that I love is the ability to create prayer lists in your documents (this is not a new feature, but one that I haven't taken full advantage of in the past). You can set up reminders to pray for specific needs daily, or on any cadence you find makes the most sense. Most importantly, it gives you the ability to track answers to prayer by incorporating those into the notes section.
So why am I calling out this feature that isn't terribly new? Because it's a little thing included to remind users that Logos is a tool for ministry—to help others grow in Christ, even as we seek to do so ourselves. Making disciples and creating gospel culture is what we're about, and we need our tools to be an aide to that end as well.
A Great Tool for Disciple Makers
Whether you're a pastor, a writer, editor, community group leader, or a serious student of the Bible, you will be well served by Logos Bible Software. It's a powerful and intuitive tool that helps you do what matters most: make disciples. I would definitely encourage taking a look at the options available and seeing what package might be best for you and your ministry needs.
---
This post includes affiliate links, meaning I will receive a small percentage of any purchase made via these links.